Spanglish is one of the best
Miami Restaurants for Private Events
Nestled in vibrant Wynwood, Spanglish reigns as a top choice among Miami restaurants for private events, offering unique tapas, creative cocktails, and a lively Miami ambiance for all your celebratory occasions.
A Private Venue Tailored for Every Occasion
Whether you are planning a corporate event, a vibrant wedding reception, or a lively bachelor/bachelorette party, Spanglish in Wynwood stands as the epitome of Miami restaurants for private events. Our versatile restaurant event spaces can transform to suit the theme of your celebration, making every event a unique and memorable experience.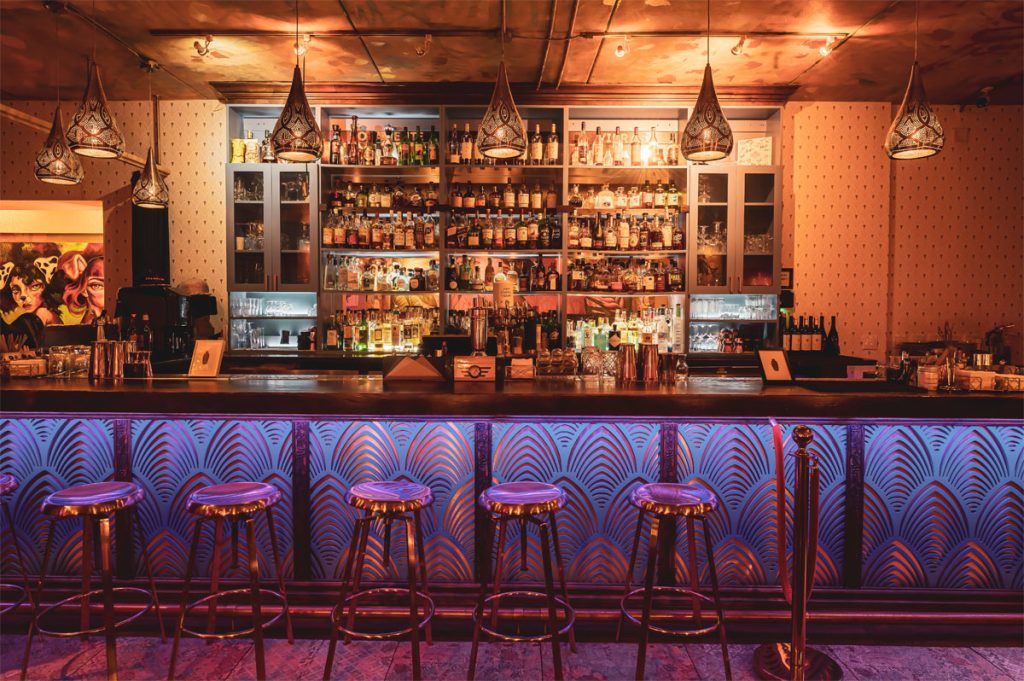 Culinary Delights to Elevate Your Event
At Spanglish, we specialize in offering a gourmet tapas menu that promises a culinary journey through the rich flavors of Latin fusion dishes. Our chefs are adept at crafting menus that cater to the preferences of your guests, be it a family dinner or a gathering of friends and colleagues, ensuring a dining experience that is both delightful and personalized.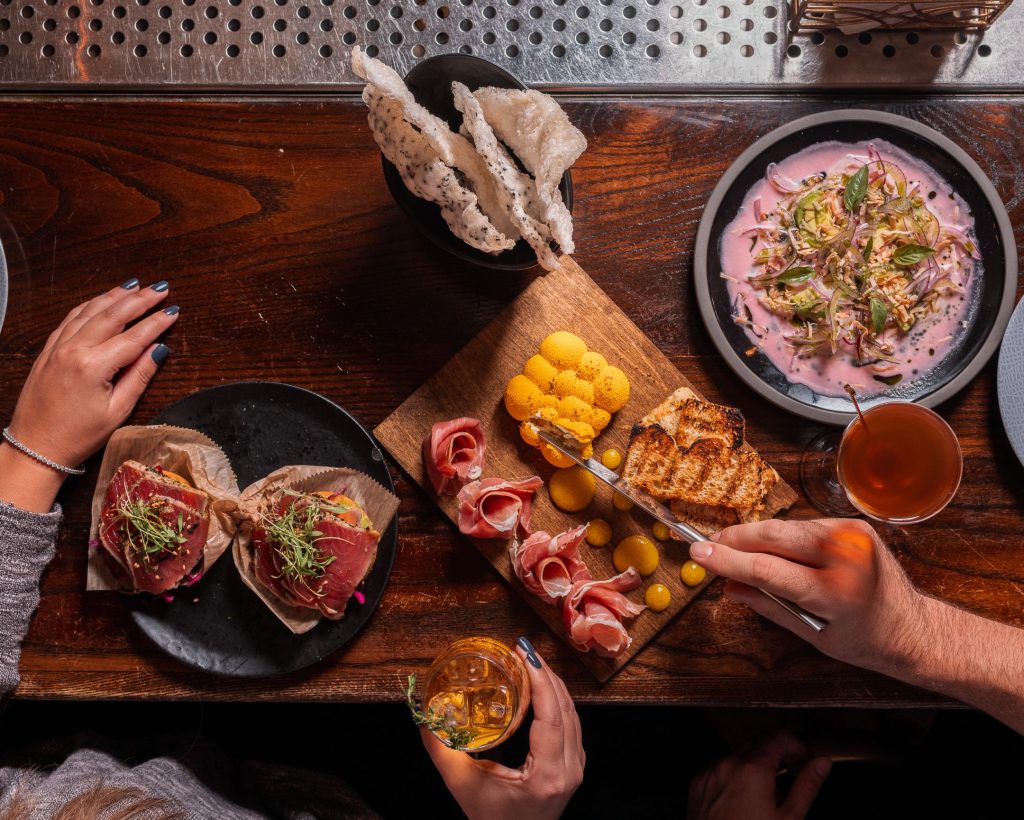 Crafted Cocktails for a Spirited Celebration
Our cocktail menu is a haven for both connoisseurs and enthusiasts, offering a range of Instagrammable cocktails that add a vibrant touch to your private parties. From the signature Cafetera Old Fashioned to seasonal specialties, our cocktails promise to add a splash of excitement to your celebrations.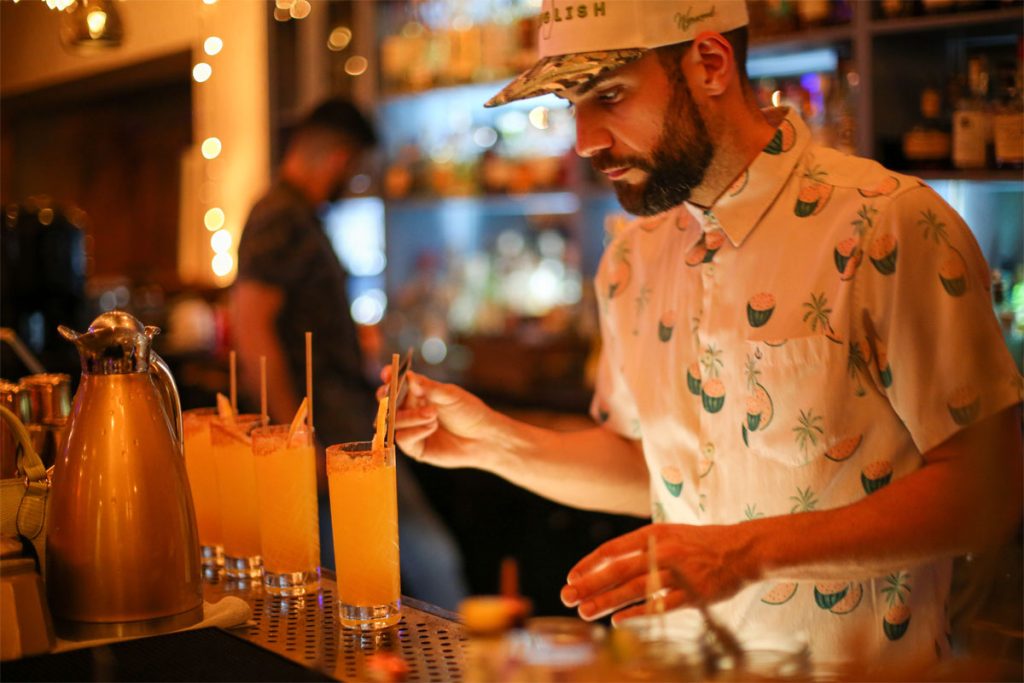 A Canvas of Art and Elegance
Step into a world where art meets elegance. Our interiors, inspired by the rich Art Deco heritage, serve as a picturesque backdrop for your events. Adorned with works by renowned artists, our restaurant with a private dining room offers a visual feast that complements the culinary delights, setting the stage for wedding receptions, late-night parties, and more.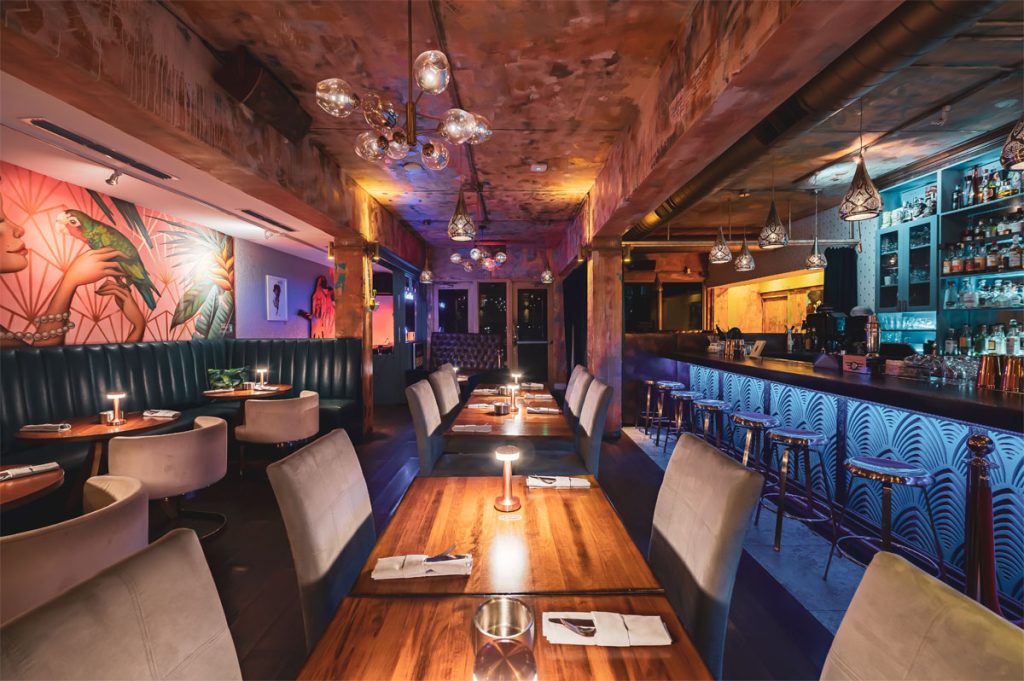 The Restaurant Space & Capacity
At Spanglish, we offer two exclusive options for booking, catering to both intimate gatherings and grand celebrations:
VIP Room
Experience the luxury of privacy in our VIP room, a curtained-off section of the restaurant that exudes exclusivity. This space can comfortably accommodate 20 guests seated or 30 guests standing, making it the perfect choice for private parties and corporate events where intimacy and personalization are key. Picture Placeholder: Images showcasing the VIP room set up for a private event
Full Restaurant Buyout
For those looking to host a grand celebration, we offer the option of a full restaurant buyout, where the entire space is privately reserved for your event. This option allows for a seating capacity of 100 guests and can accommodate up to 150 guests standing. The full restaurant buyout includes:
Access to the DJ station to control the music, setting the perfect ambiance for your event.
The ability to bring in a rollaway TV, facilitating presentations or video displays to enhance your event experience.
Book Your Private Event Space Now
Discover why Spanglish is the preferred choice among Miami restaurants for private events. Secure your space now and get ready to host an event that epitomizes the vibrant and eclectic spirit of Miami.
For more inquiries, call us at 786-870-4258 or visit us at 2808 North Miami Avenue, Miami, FL 33127.
Discover the Vibrant Pulse of Miami's Premier Event Space on Our Instagram Feed
Step into the world of Spanglish, where every moment is a celebration of vibrant culture and culinary excellence. Our Instagram feed offers a visual feast, showcasing the unforgettable experiences that await you. From gourmet delights to spirited celebrations, get a glimpse of the vibrant atmosphere that makes Spanglish the go-to destination for private events in Miami. Follow us to stay updated on the latest events, offerings, and more.